1. What is The Cheapest St. Catherine's Decor Item?
The cheapest items that we offer are our event party decor in St. Catherines Disney backdrops and safari animals. Our Disney backdrops are especially great for kid's parties. These decor items really set the scene and get children excited. The St.Catherines Disney backdrops and safari animals can both be rented to you for just $99 each. Here are a list of each:
Disney backdrops:
Marvel Avengers
Toy story
Cars
Paw Patrol
Princess castle
Lion King
Elsa Frozen
Safari Animals:
Kangaroo baby
Zebra 
Gorilla
Trunk up baby elephant
Grande giraffe
Grand baby giraffe
Resting giraffe statue
African lion
Bengal Tiger 
Large box turtle
Grand-scale African zebra foal
South African rhino 
2. What Event Party Decor in St.Catherines Flower Walls Do You Offer?
It's always a good idea to have more than one spot for your prom go-ers to take pictures and with multiple flower walls to choose from, there's bound to be one both you and your guests will love. Our St.Catherines party decor flower walls are aesthetically pleasing and can easily tie a whole room together.
Here's a list of our Flower Wall Rentals in St. Catherines for you to take your pick from!
Green Boxwood (3 sizes)
Green high tea flower wall
Meadow arch
Mixed flower ring
Mixed flower wall
Pink blush flower wall
Purple lavender flower wall 
Red rose flower wall
Victorian arch
White champagne flower wall
White drape enchantment flower wall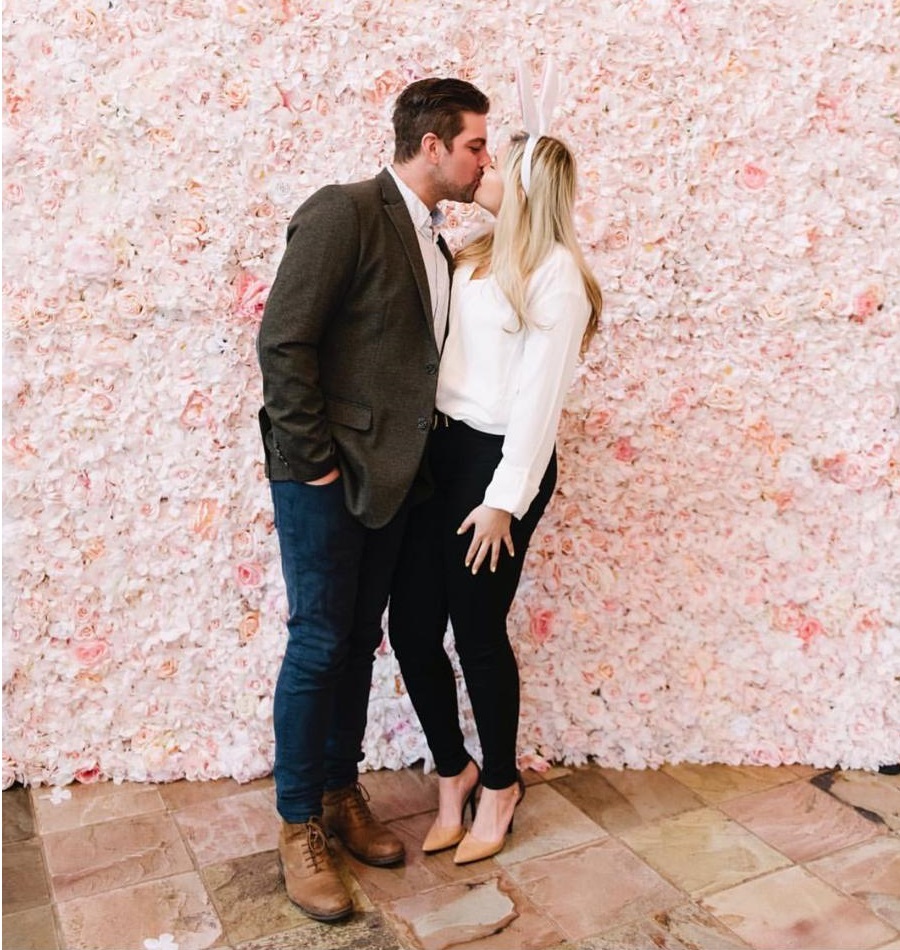 3. What non-traditional St.Catherines Party Decor Fower Walls Do You Have?
If regular flower walls are not for you, there are a few other options that you could go for. Listed below are a few brief descriptions of additional floral backdrops we offer.
4. St.Catherines White Drape Enchantment Flower Wall Rental
This is an 8×8 backdrop with gorgeous sheer drapes that bunch at the floor. Above the drapes are white, pink and blush-colored flowers and within the drapes are pretty fairy lights
5. St.Catherines Victorian Arch Rental
The Victorian arch rental in St.Catherines party decor is a beautiful alternative to a traditional flower wall. It is gorgeous and great for pictures or any other photos where you'd like to be under the archway. This St.Catherine flower wall is sure to be loved by you and all of your guests. It's also our most popular archway.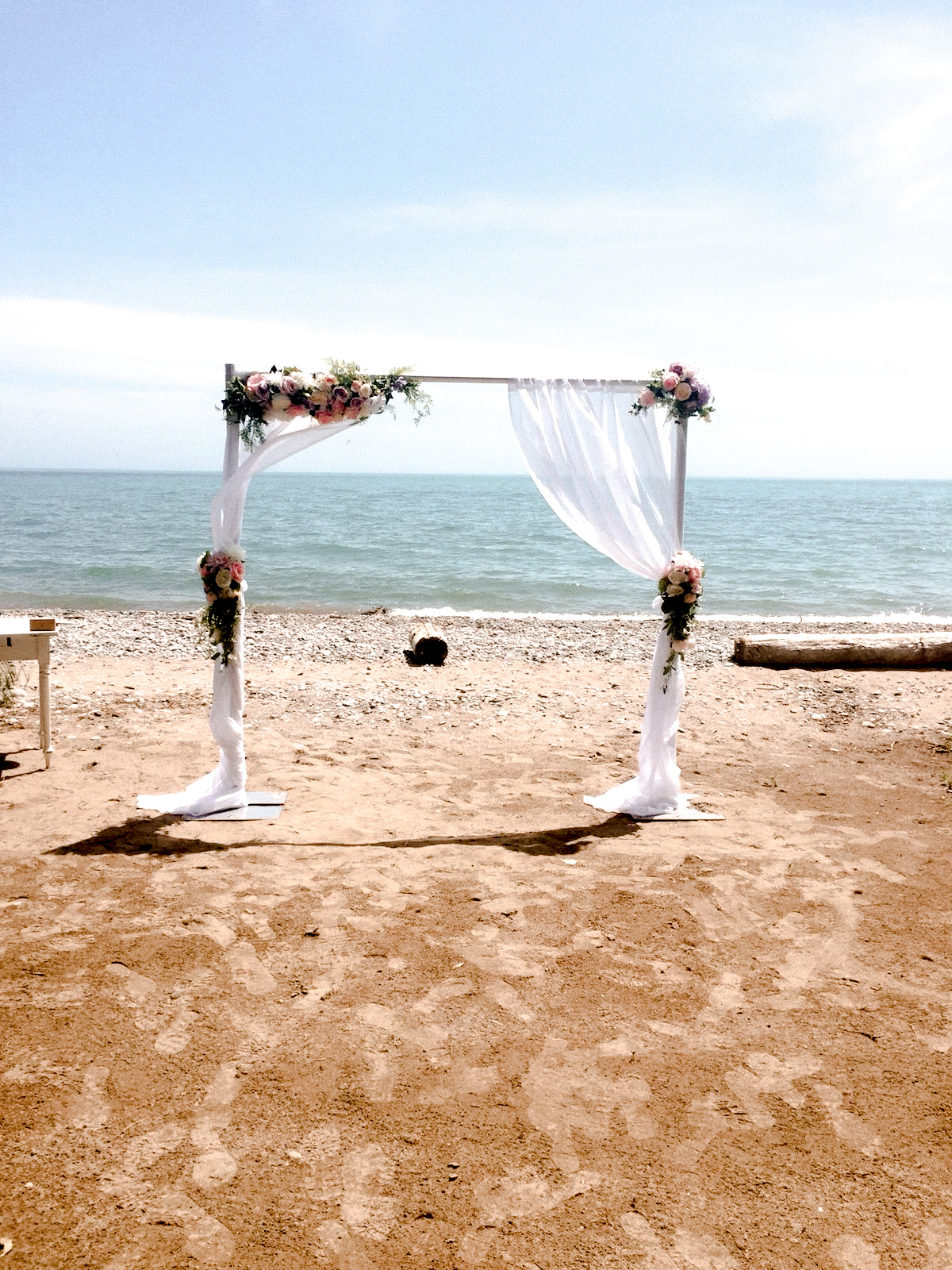 6. Brampton Mixed Flower Ring Rental
This flower ring is 8 feet tall and 6.5 feet wide. This is our most rented flower wall and is rented day by day. It is most popularly used as a wedding backdrop, bridal shower decoration, or baby shower backdrop. The flower wall has a mix of hydrangeas, pink roses and some other pink and white flowers.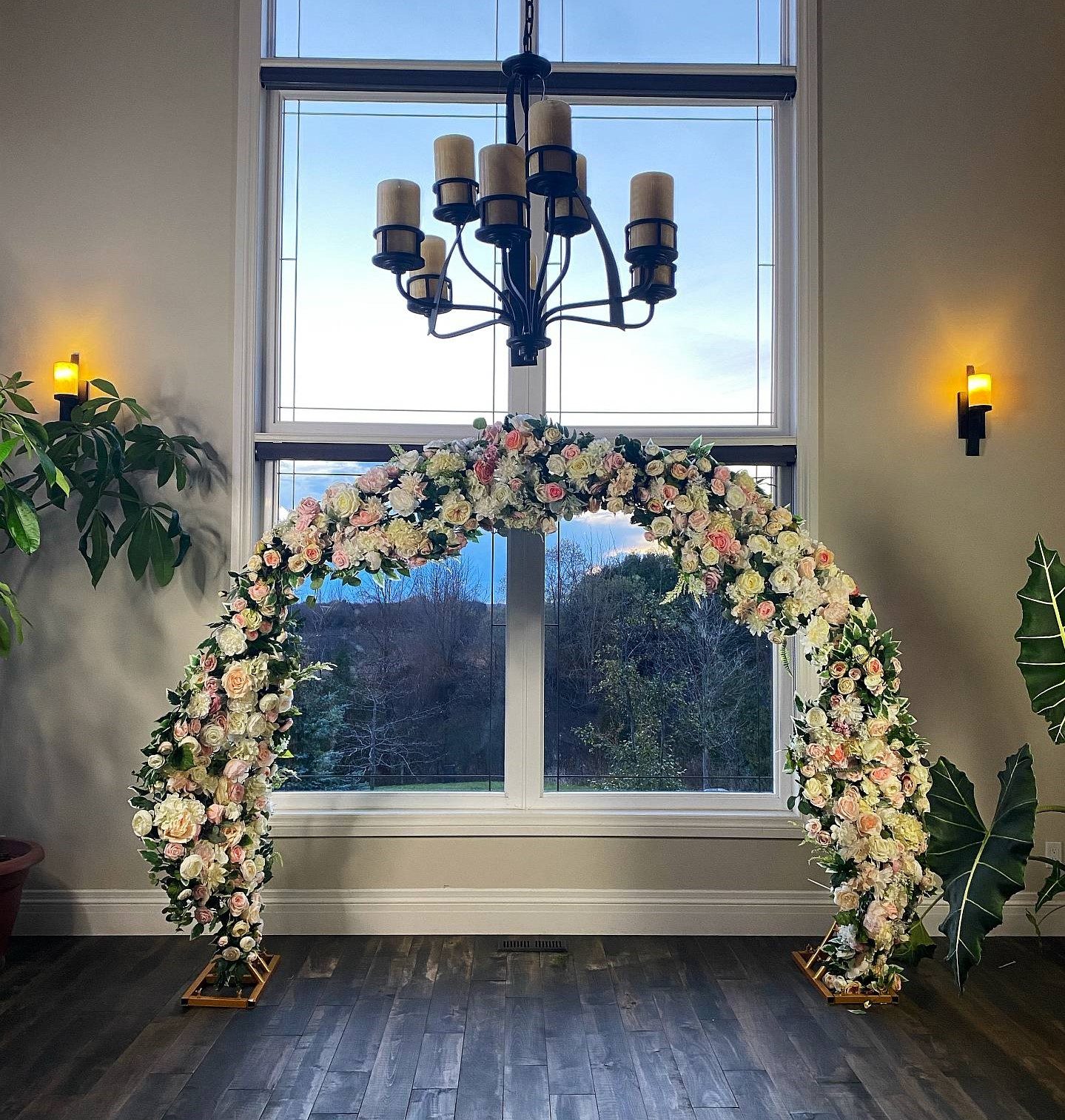 7. What St.Catherines Party Decor Photo Booths Do You Have?
We offer two different photo booths. The first one we have is the open concept modern walk-up photo booth and secondly, we offer the famous mirror me booth selfie photo booth. With your St.Catherines photo rental rental, you will get unlimited 4×6 prints, digital copies of the photos, an on-site attendant, email sharing, tons of fun props, a backdrop of your choice, a DSLR camera, state of an art printer, a light box and a table for props. 
8. What St.Catherines Balloon Decor Do You Have?
We offer the event party decor in St. Catherine's full arch balloon rental, the St.Catherines party decor half arch balloon rental and the St. Catherine's balloon centrepiece rentals. This means that no matter where your event is being held, we'll be able to fit one of these options there. They each serve their own purpose.