Rent Marquee Letters Collingwood
Collingwood Marquee Letters Company
Welcome to Toronto Marquee Lights, we are a boutique event decor and rental company with the cutest decor – your destination to rent marquee letters in Collingwood. Our charming collection of marquee letters, numbers and symbols cater to events of all types in Collingwood, ON. Beloved for their personalization options – our stylish marquees are an affordable way to brighten up your event venue in Collingwood.
Looking to make a bigger statement with your marquee letters display in Collingwood? We have an extensive collection of balloon decor, flower wall rentals, photo booth rentals and more to create an even larger impact. Finally, look for us on on Wedding Wire and TheKnot where we have earned the trusted vendor title thanks to our happy clients. 
Marquee letter rentals in Collingwood cost $89 each + delivery.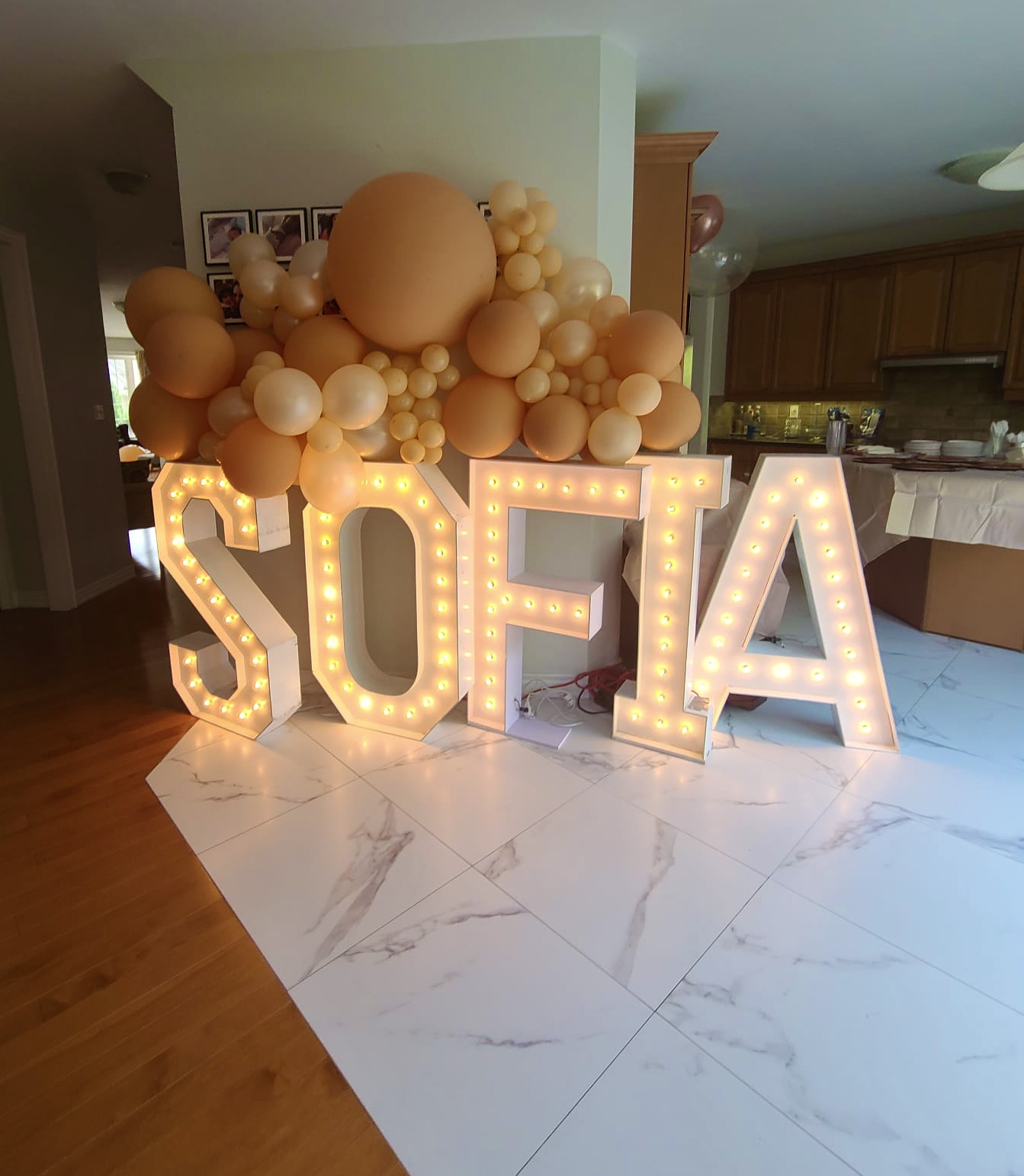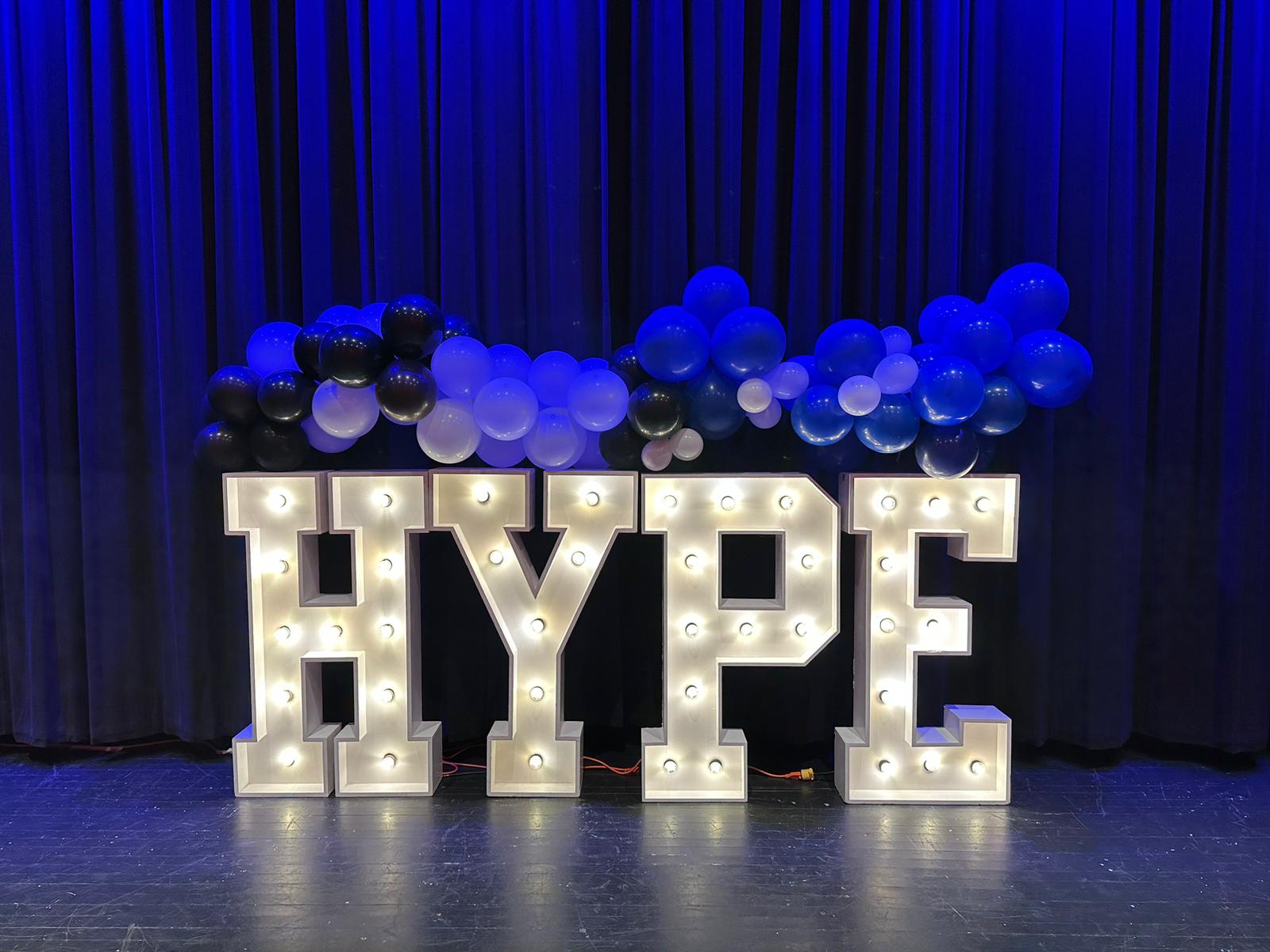 Rent Marquee Letters with Lights in Collingwood
Standing an impressive 4 ft tall, our classic marquee letters with lights make fantastic focal decor pieces for events in Collingwood. Our vintage-style marquee lights cast a gorgeous hue of light across your venue creating an inviting atmosphere. We offer several shades of LED lightbulbs so you can cater the colour to your event theme
Our marquee letters with lights for rent in Collingwood are affordable- they cost $89 each + delivery.
Collingwood Marquee Numbers for Rent
Massive marquee number displays are the perfect way to celebrate the guest of honour at milestone events in Collingwood. A great option for those celebrating birthdays, graduations, New Year's, corporate milestones and much more. Plus, make a bigger mark with your marquee numbers displays by pairing it with a bright balloon arch – choose any combination from 24 colours!
Marquee number rentals cost $89 each + delivery in Collingwood – inquire here.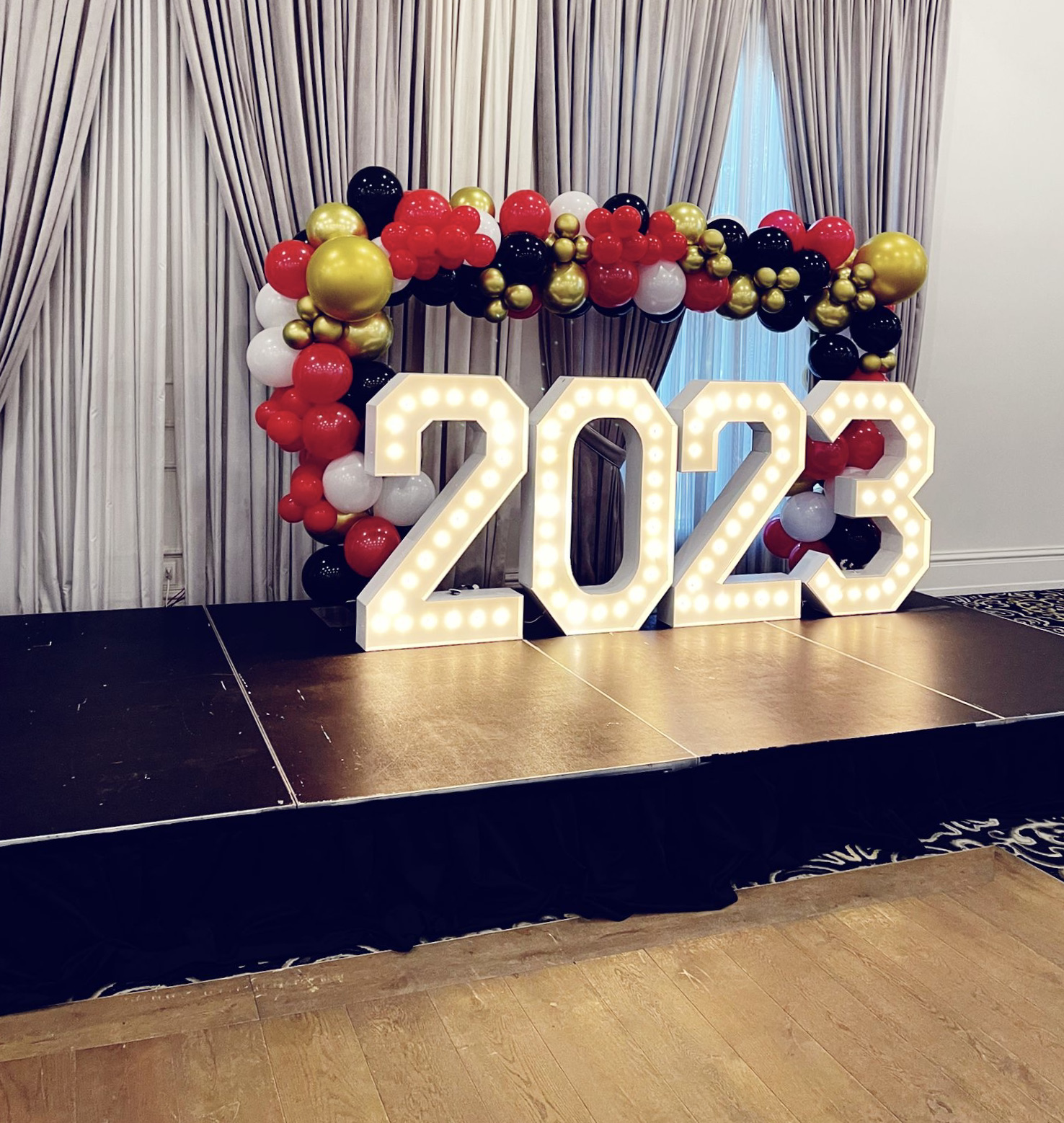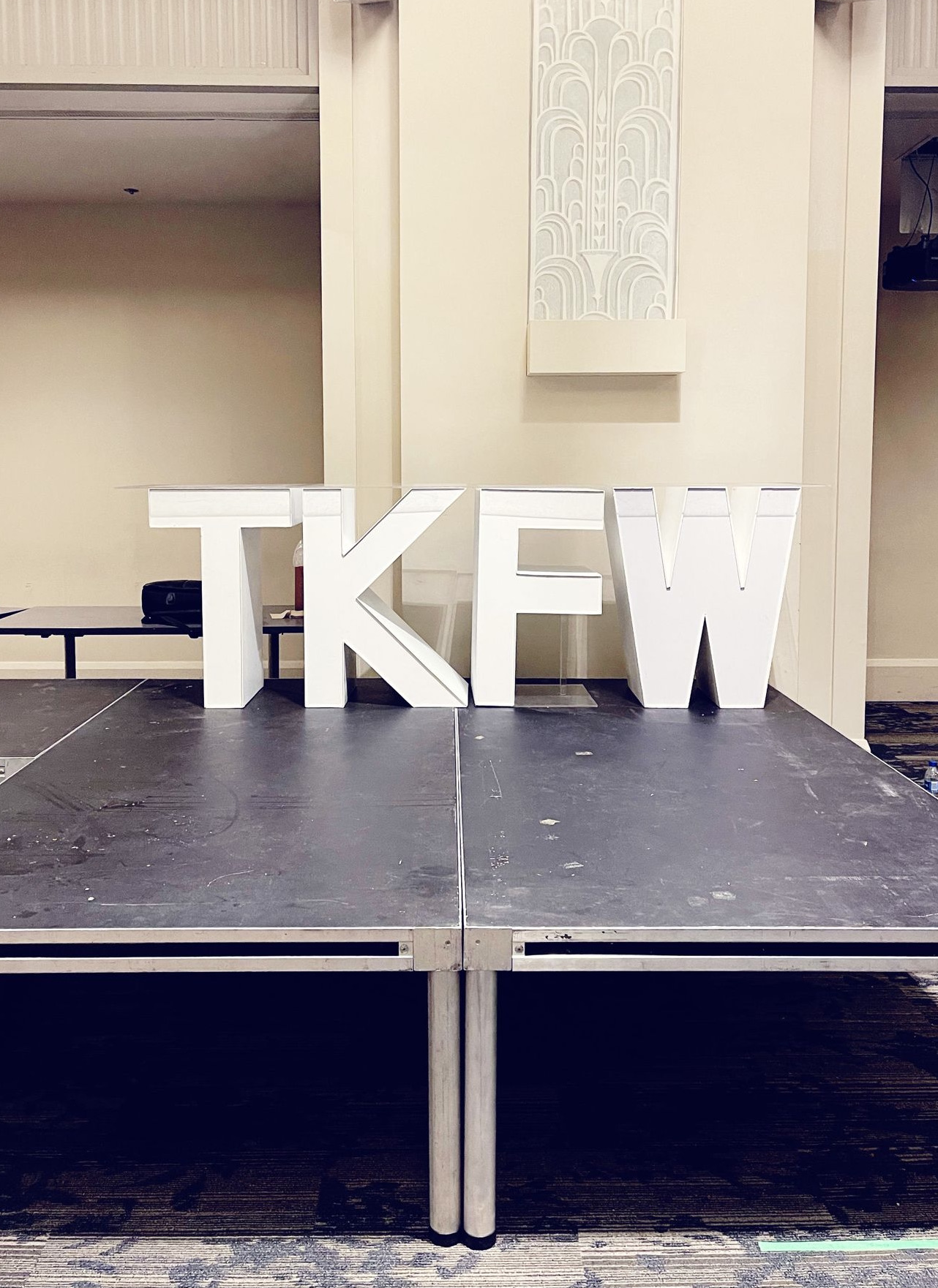 Collingwood Marquee Block Letter Tables for Rent
A charming place to display event essentials, our marquee block letter tables are used to as practical and pretty decor at Collingwood events. Spotlight a table filled with gifts, food and beverages, cake, merchandise on a marquee block letter tables to draw the attention of guests. Choose any combination of marquee block letters, numbers, or symbols for a custom table. Our most popular selection in Collingwood is the BABY table.
Marquee block letters cost $89 per marquee + delivery in Collingwood. We provide the glass tabletop for free!
Collingwood Wedding Marquees for Rent
Wedding planners rejoice, we have enormous, elegant marquee letters used to display romantic messages at key locations in Collingwood wedding venues. Memorable marquee monograms create elegant displays, perfect for wedding ceremonies and receptions. Our popular romantic collection of wedding marquees includes LOVE, MR & MRS and the lovely marquee heart displays.
Create a pleasant place to capture pictures by pairing your wedding marquee letters with a luscious silk flower wall and/or a beautiful balloon bouquet. If you are planning to propose in Collingwood, consider asking with our MARRY ME marquee.
Wedding marquee letter rentals in Cobourg cost $89 each + delivery.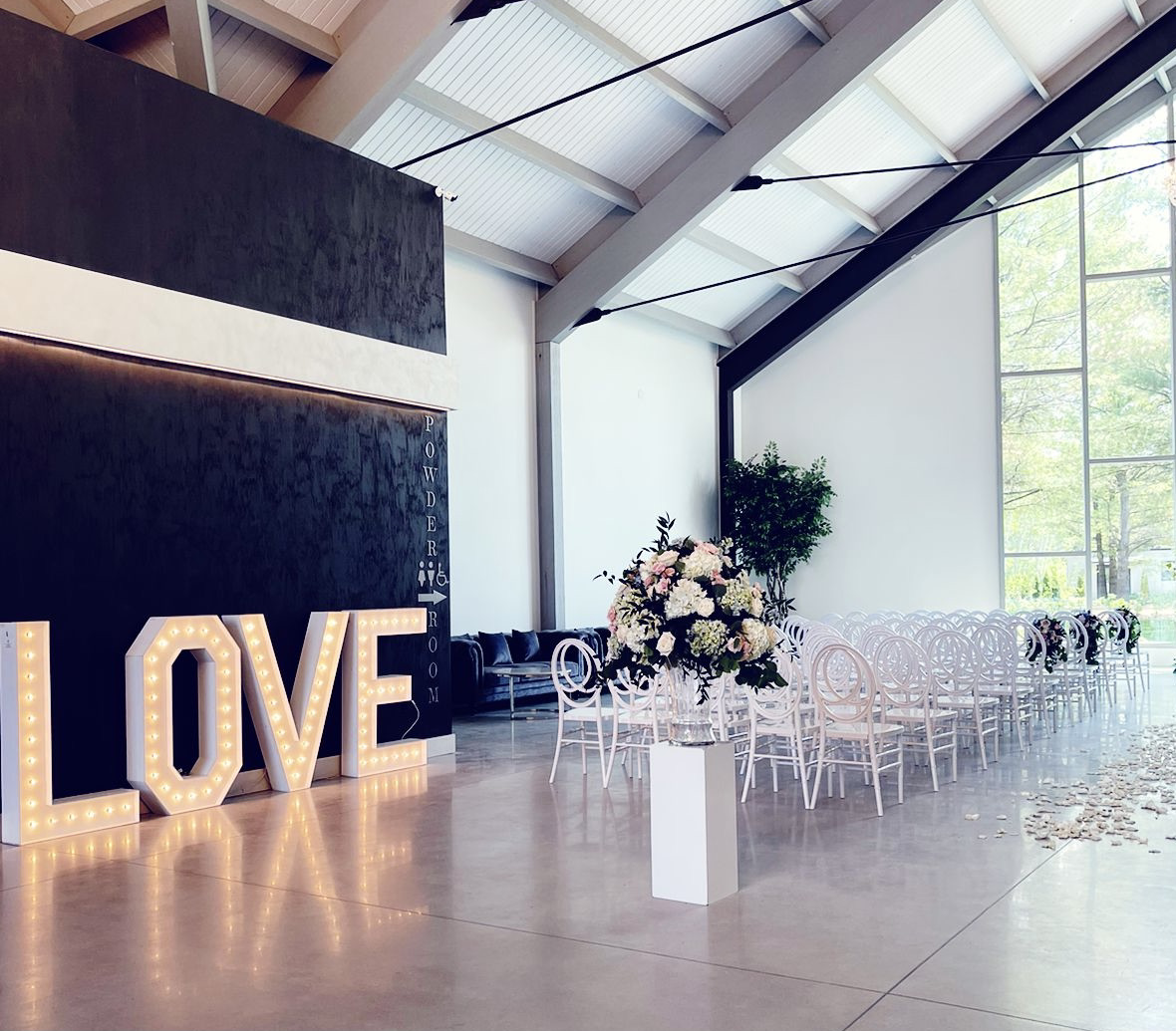 COLLINGWOOD BALLOON DECOR