Rent Marquee Letters Brantford
Brantford Marquee Letters Company
Welcome to Toronto Marquee Lights, the BEST place to rent marquee letters in Brantford and surrounding communities. We are pleased to provide Brantford's biggest and most beautiful marquee letters for rent, perfect for a wide variety of events. Our expert event decorators design custom marquee displays that can be paired with our event add-ons like balloon decor, flower walls, and more all available in Brantford.
With our efficient event rental process, friendly customer service agents, and charming Canadian-made marquee letters, we have quickly become a trusted vendor on Wedding Wire and TheKnot with the help of the ratings from our many satisfied customers. We are thankful to our many happy customers who have helped our small business grow throughout Brantford communities and across Ontario.
Marquee letter rentals in Brantford cost $89 each + delivery.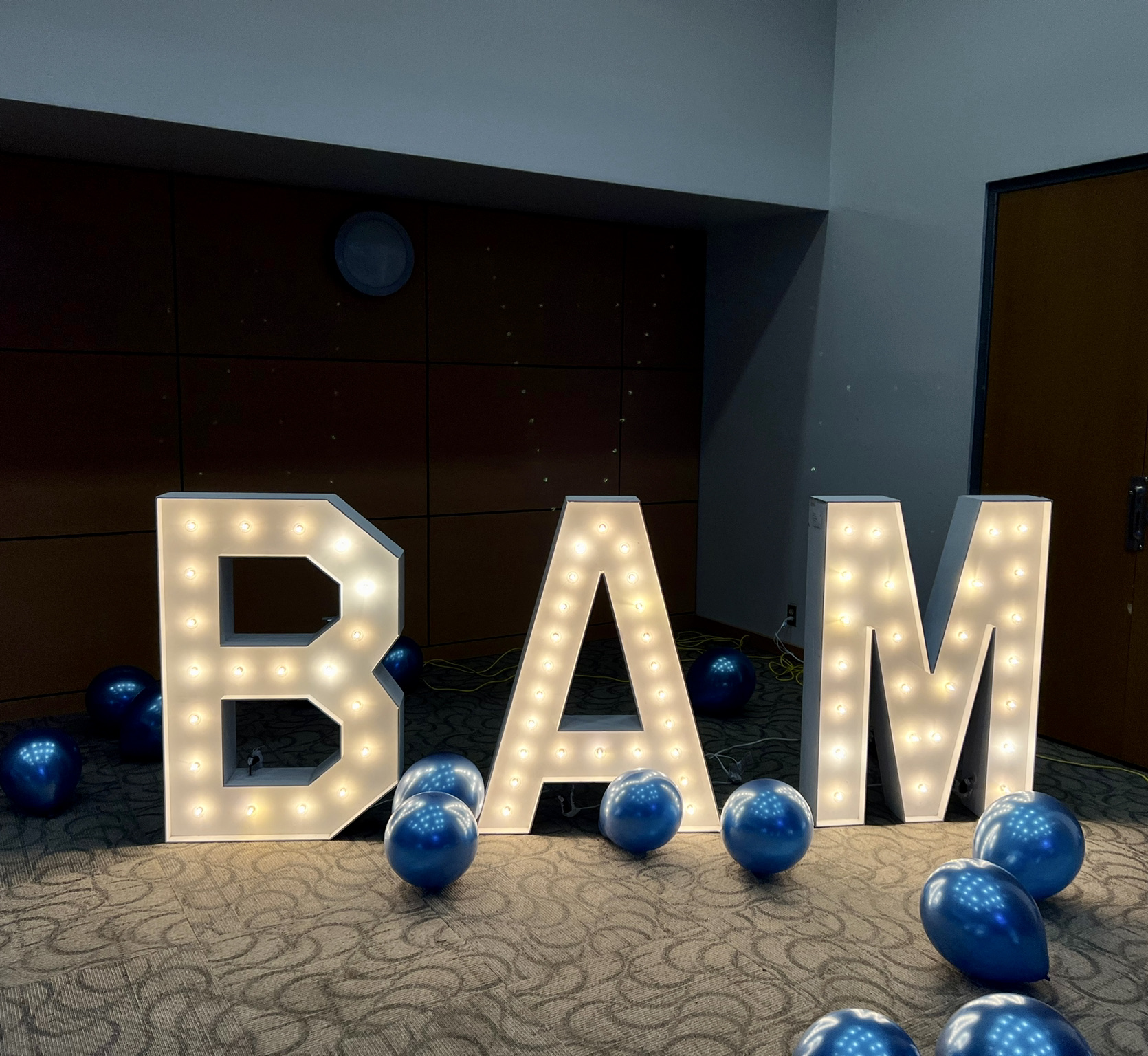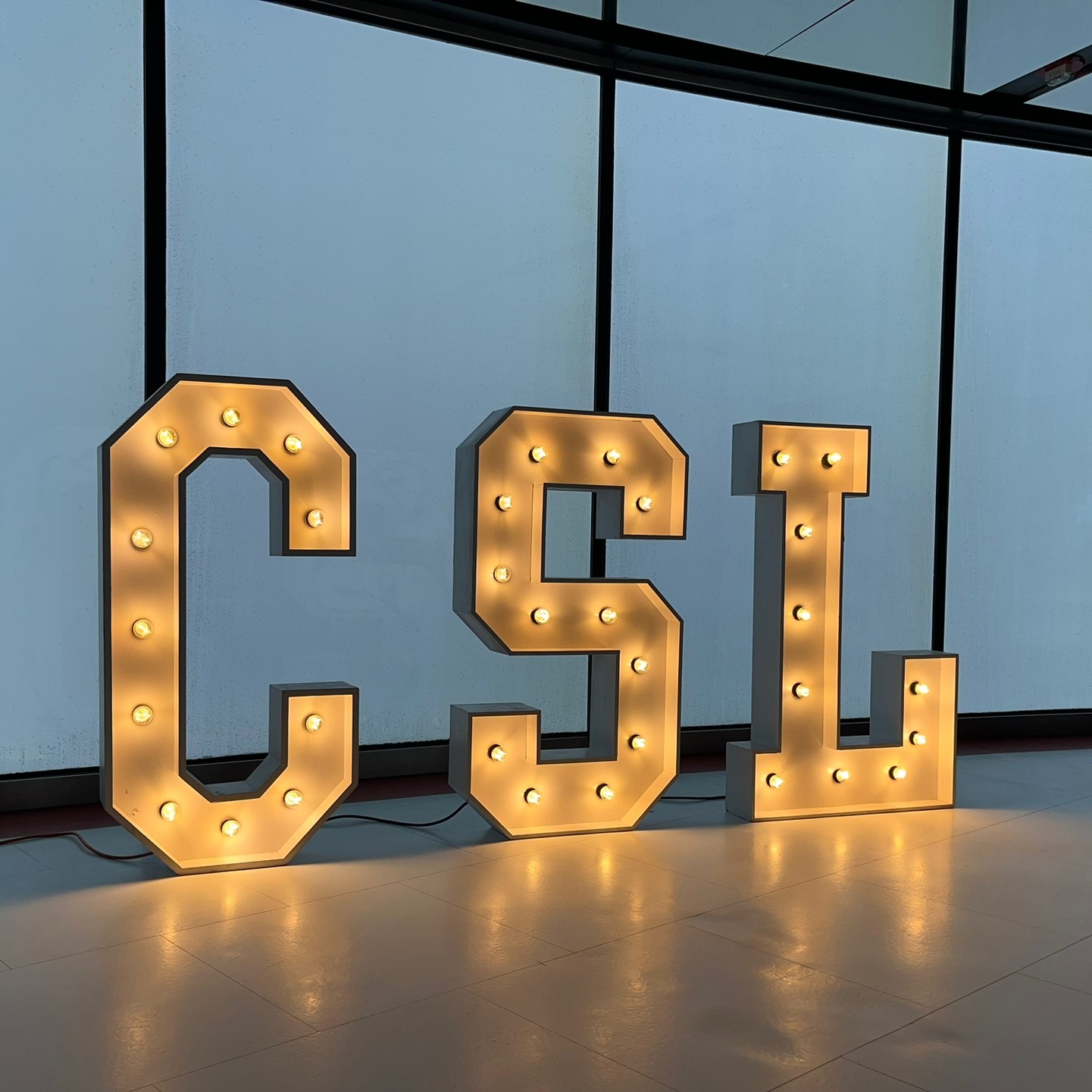 Rent Marquee Letters with Lights in Brantford
Dazzling marquee letters with lights are an excellent way to capture your guests' attention at Brantford events. Our marquees are hand-fitted with vintage style light bulbs that cast a warm glow across Brantford venues. These marquee monograms display your message in a big way standing 4ft tall. Perfect for charming and elegant affairs like birthday celebrations, elegant wedding ceremonies, and classy corporate galas in Brantford to name a few.
Our marquee letters with lights for rent in Brantford are extremely affordable costing $89 each + delivery.
Brantford Marquee Numbers for Rent
Our massive marquee number rentals are perfect for celebrating milestone bashes in Brantford, ON. Our impressive 4ft marquee numbers are available in several fonts to suit the style of your event. Most popular at birthday parties, end-of-year celebrations, and corporate events in Brantford, our marquee numbers are a great way to make your event's date memorable. Furthermore, these displays are perfectly accentuated with our bright balloon arches.
Marquee number rentals cost $89 each + delivery in Brantford – inquire here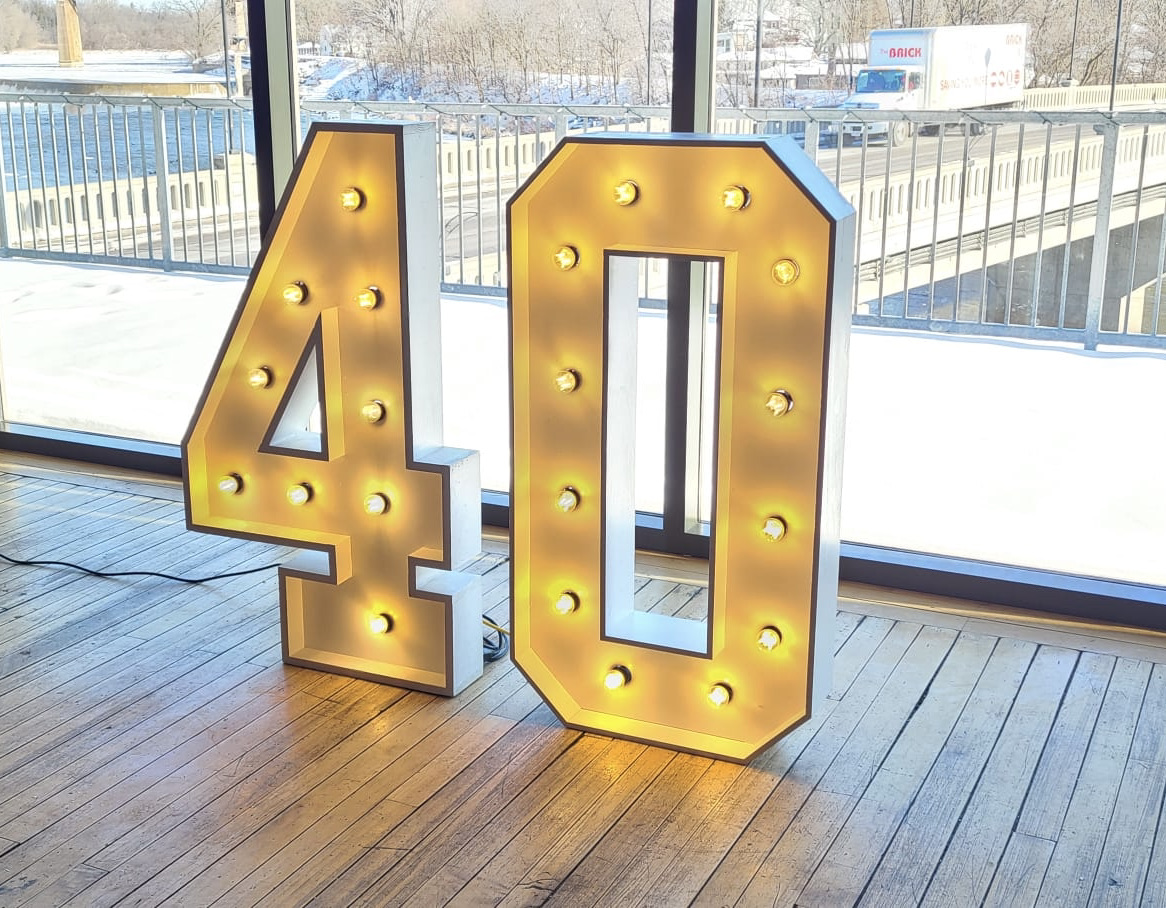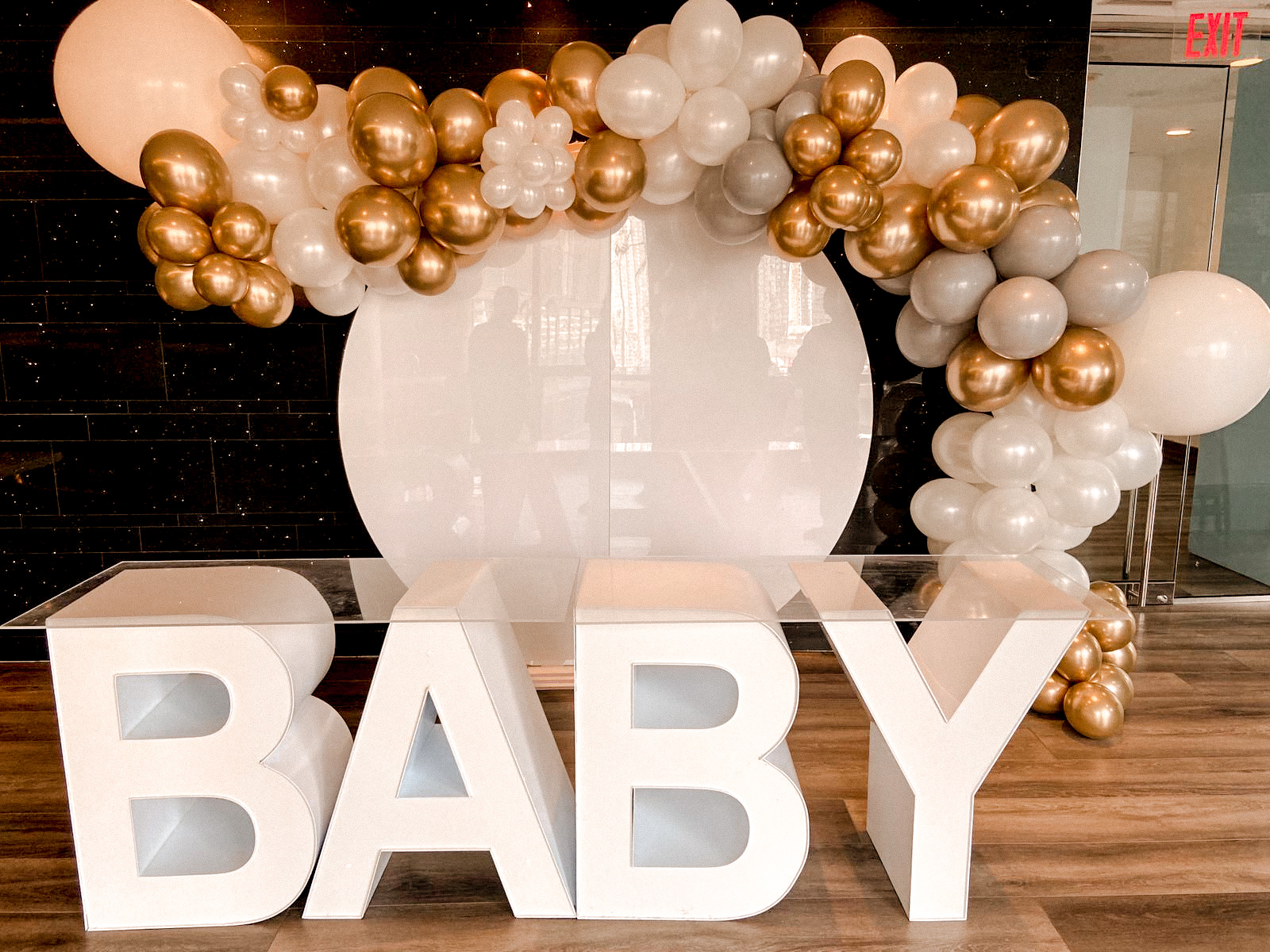 Brantford Marquee Block Letter Tables for Rent
Marquee block letter tables make for a charming and purposeful event decor item, great for a variety of parties in Brantford. One of our best-sellers in Brantford, the marquee block table is a stunning spot to display cakes, gifts, merchandise, and more. Marquee block tables are most rented at marketing events, wedding receptions, birthday parties, and baby showers. The most popular marquee block letter tables in Brantford are our ONE and BABY tables. Otherwise, for a more personalized look, create a custom marquee table with any combination of marquee blocks!
Marquee block letters cost $89 per marquee + delivery in Brantford.
Brantford Wedding Marquee Letters for Rent
These vintage-style rental marquees are popular at romantic affairs in Brantford. Set the scene at elegant weddings with our selection of romantic marquee letters like the LOVE, MR & MRS, and the lovely marquee heart displays. Alternatively, many clients in Brantford opt for personalized marquee monograms to display newly married last names, the couples' initials, or their wedding date for example.
If you are planning to propose in Brantford, consider our MARRY ME marquee rental and pair it with our red rose flower wall.
Wedding marquee letter rentals in Brantford cost $89 each + delivery.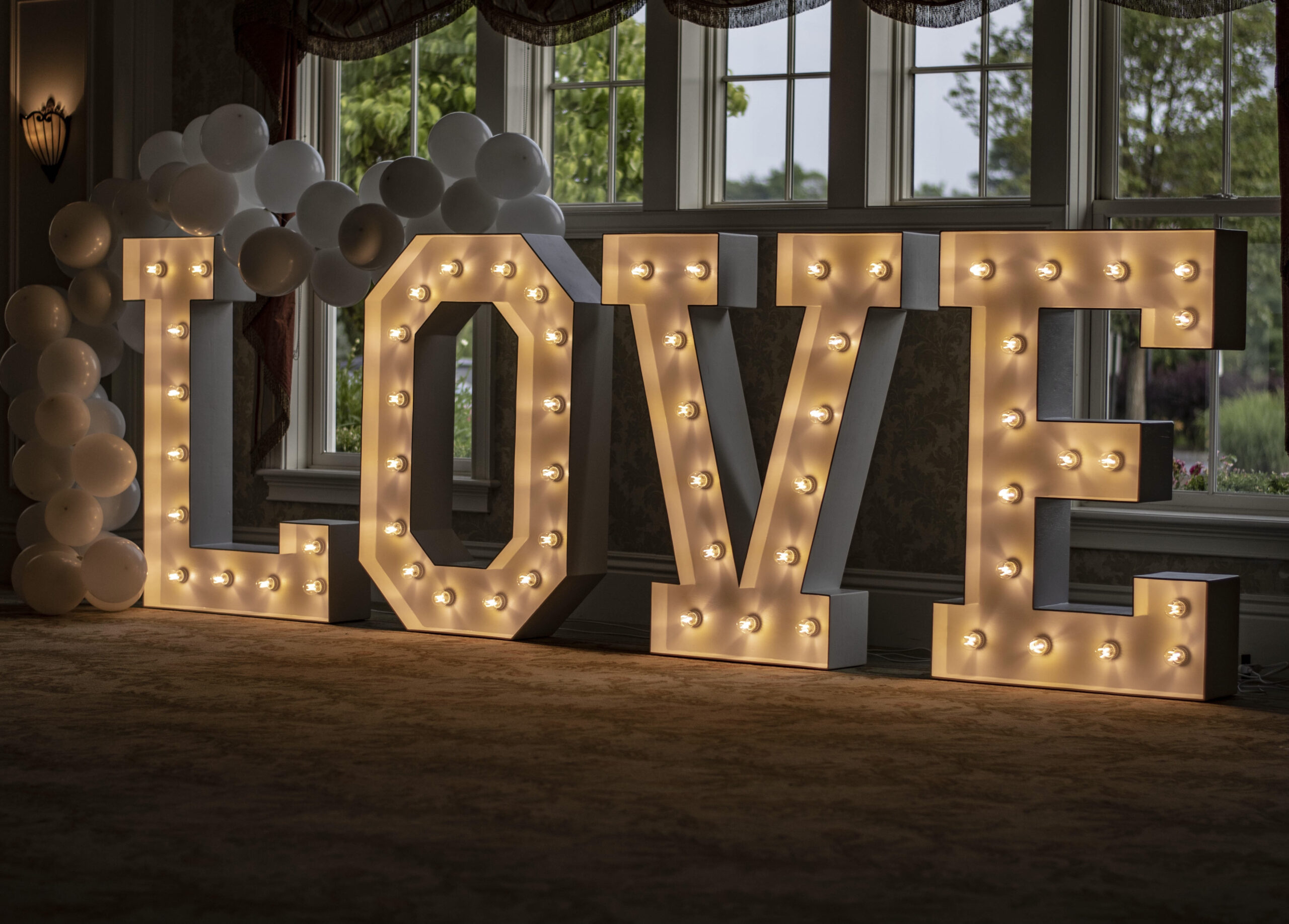 BRANTFORD FLOWER    WALLS