Every event must feature a one-of-a-kind statement that excites guests and leaves them with lasting memories. Although there are a variety of event elements that can be featured in a venue, the flower wall rental in Toronto is a classic yet impactful moment that draws in attendees.
Bright, colorful and eye-catching; a flower wall rental in Toronto is the ideal addition to any event, regardless of theme or occasion. Toronto's flower wall backdrop becomes a photo opportunity that guests can't resist taking photos in front of. A well-designed wall can become the focal point of a venue.
An important aspect of creating a flower wall is using real versus fake flowers. The most crucial factors behind the choice of using fresh flowers for events versus faux flowers for events are an event's timing and its environment/venue. Silk flowers are the way to go because fresh blooms will quickly perish. If an event is to be held outdoors in high temperatures, fresh flowers will wilt during the event. Flower walls for rent in Toronto is the way to go in this scenario to make sure your wall will impress guests.
Toronto flower backdrop decor is not free-standing, but comes in stable panels. Compared to other flower wall suppliers, our panels are stronger and more durable. The benefit of this system is that it is easy to transport and store as they are in small pieces. So this also means that you can custom size your flower wall.
Flower Wall – Toronto Flower Wall Rental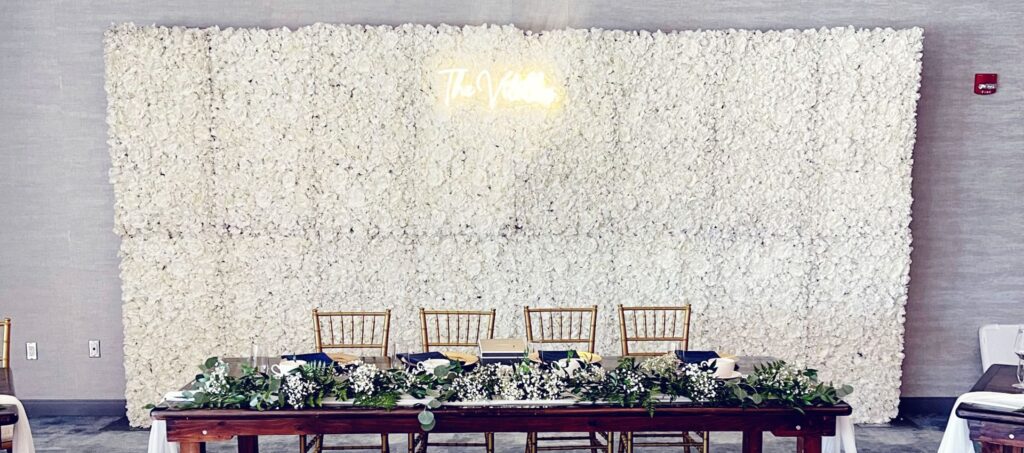 We are one of the first companies to create floral backdrops to rent within GTA. And we've stuck to our company ethos of quality first and not creating lower-end pieces. We only send out floral backdrops that have good quality. Toronto red rose flower wall decoration is good for birthdays and anniversaries.
Having red rose flower walls at special events is a new trend. Stunning backdrops can become breathtaking photo backgrounds where your guests can leave imprints forever through photos. To make these pictures shine, you can add some balloons to make them amazing.
Every day, our flower wall company in Toronto helps customers find the perfect Toronto flower decoration for whatever they require. We dive into some of the meanings of different flowers, so you can give an extra special flower arrangement in Toronto for your next occasion.
The decoration is the thing that generates the excitement of the party; flower backdrop decoration in Toronto has a variety of themes and ways that will make a person more excited about the party. Select the best flower wall for rent in Toronto to help you make the party more engaging.
The Allure of Toronto Flower Wall Rental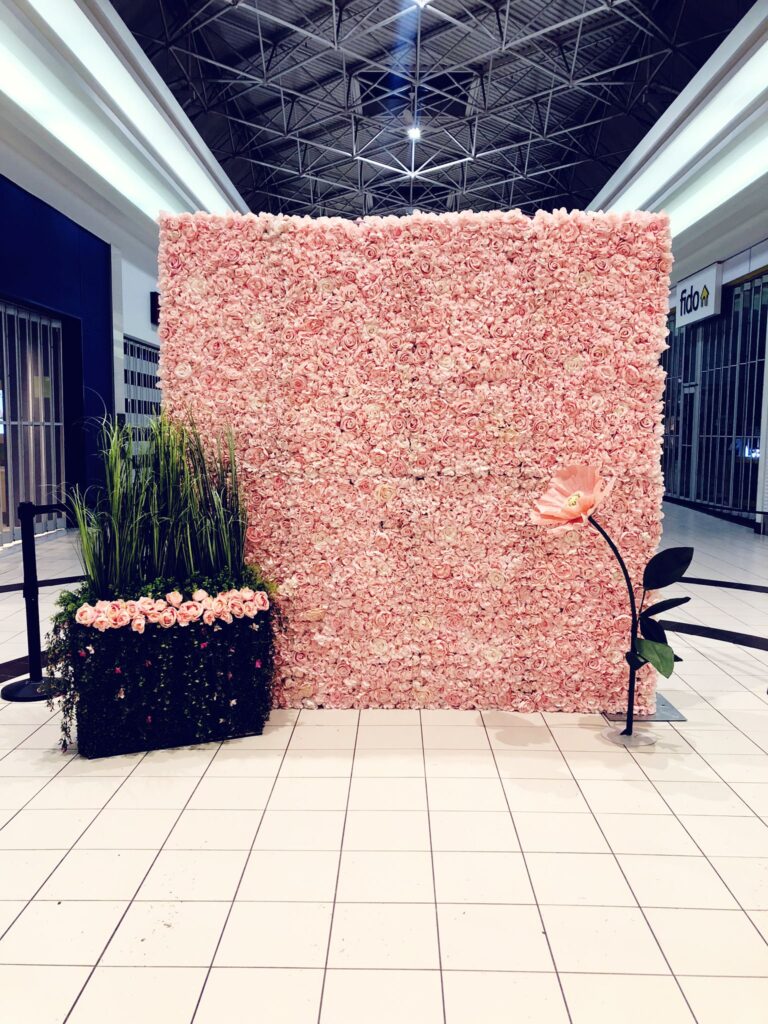 Flower walls have become a popular choice for event planners and hosts in Toronto, and for good reason. These stunning creations serve as both decor and a backdrop, making them versatile and eye-catching additions to any event. Here are some of the reasons why Toronto flower wall rentals are in high demand:
Visual Impact: Flower walls are Instagram-worthy, making them a hit in the age of social media. They create a visually stunning focal point that can't be ignored, encouraging guests to take photos and share their experiences online.
Versatility: Flower walls are adaptable and can suit various themes and color schemes. Whether you're aiming for a romantic, rustic, or modern ambiance, there's a flower wall design that can match your vision.
Elegance: Flowers symbolize beauty and elegance. A flower wall instantly elevates the atmosphere of any event, making it feel more upscale and luxurious.
Photo Opportunities: Flower walls make for fantastic photo opportunities. They provide a picturesque backdrop for portraits and group shots, helping you capture memorable moments.
Privacy and Division: Flower walls can also be used to create private areas within an event space or to divide larger spaces into cozier sections, enhancing the overall flow and comfort of your event.
Options for Toronto Flower Wall Rentals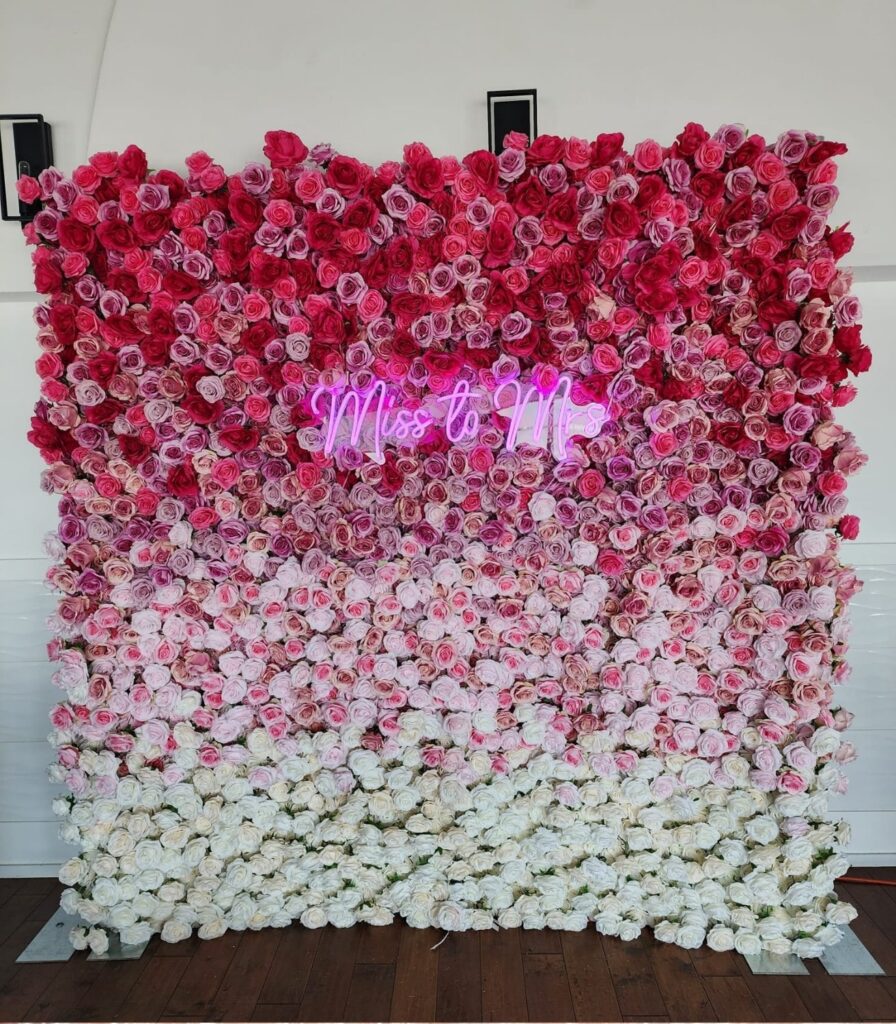 The beauty of Toronto Flower Wall for rent is that you can choose from a wide range of options to suit your event's specific needs and style:
Flower Types: Different flowers convey different vibes. You can opt for classic roses for a timeless look, lush peonies for a romantic atmosphere, or wildflowers for a bohemian touch.
Color Palette: Customize the color palette of your flower wall to match your event's theme or branding. You can go for monochromatic elegance or a vibrant burst of colors.
Size and Shape: Flower walls come in various sizes and shapes. You can choose a standard rectangular backdrop or go for a unique circular or heart-shaped design.
Additional Elements: Enhance your flower wall with additional elements like LED lights, greenery, or signage, making it even more personalized and eye-catching.